Drive Up Hours
Mon, Tues 9 AM - 5 PM

Wed 10 AM - 5 PM

Thu 9 AM - 5 PM

Fri 9 AM - 6 PM

Sat, Sun Closed

Lobby Hours
Mon, Tues 9 AM - 5 PM

Wed 10 AM - 5 PM

Thu, Fri 9 AM - 5 PM

Sat, Sun Closed

Main Office
3737 South Scatterfield Rd
(38th & Scatterfield)
Anderson, IN 46013

Phone: 765-649-9271
ART (Audio Response) 649-9271 option #2 (24 Hour Telephone Access)
Toll Free: 1-800-284-5233
Fax: 765-641-7610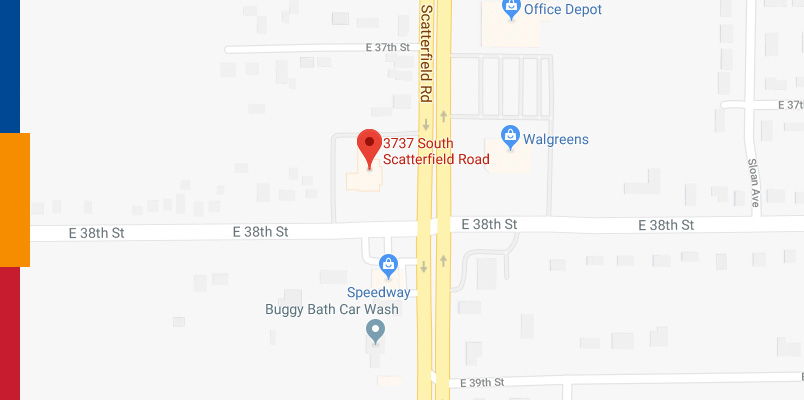 As a reminder and in honor of these Federal Holidays, we will be CLOSED.
NEW YEAR'S DAY
MARTIN LUTHER KING JR. DAY
LABOR DAY
VETERAN'S DAY
THANKSGIVING DAY
FRIDAY AFTER THANKSGIVING
CHRISTMAS EVE
CHRISTMAS DAY

COLUMBUS DAY
PRESIDENT'S DAY
MEMORIAL DAY
JUNETEENTH

INDEPENDENCE DAY

Main Office
3737 South Scatterfield Rd
(38th & Scatterfield)
Anderson, IN 46013
32 & By-Pass
2205 E. 3rd St.
Anderson,IN 46012


Additional Fee Free ATM Locations:
---
Harvest Market*
1212 N Lincoln St
Alexandria, IN 46001
(Open during business hours)
Speedway Gas*
2945 N Scatterfield Road
Anderson, IN 46012
(Across from North Branch - Open during business hours)
Speedway Gas*
2425 Raible Avenue
Anderson, IN 46011
(West Side of Anderson - Open during business hours)
Speedway Gas*
7167 South SR 67
Pendleton, IN 46064
(Open during business hours)
*cash dispensing only
For Access to nearly 5,000 ATM locations in 49 States, experience the power of Alliance One.
Whether you are across town, traveling out-of-state or out of the country, or moving to another state, you can stay close to Independent Federal Credit Union with CO-OP Shared Branching. These are offices where you can access your credit union account and get answers from real people, every time you visit. Many shared branches have extended hours, making your financial transactions that much easier to conduct. Find a branch where ever you are!