Virtual Branch online banking will be updated on MAY 20, 2021 to deliver a more modern and intuitive user experience. Are you ready?

Virtual Branch® Next will elevate your digital banking experience and will offer you finance services to better fit the way you live and work.
Some highlights include:
• A more modern and responsive design – Virtual Branch® Next will feature one-click access to all accounts, recent transactions, upcoming scheduled transfers, and bills.
• Aligned Mobile and Online experience – You will have a smooth interface experience via a smartphone, tablet, or desktop.
• Quick and Easy Bill Payments – Quickly view upcoming bills and scheduled payments right from your online banking homepage.
• Smart Money Management Tools – You will have a comprehensive view of your finances right from your online banking site or mobile app, and you will be able to access information to help set goals and make smart financial decisions.
The Login ID and Security Code will be located on the same page, and the Self Service items will move to Settings. Your account information, settings, alerts, and schedules will remain unchanged.
The logon process will be more streamlined Both the Logon ID and Security Code fields will be combined. Challenge security questions will continue whenever necessary to keep your account safe. The security phrase feature will be removed.
PLEASE NOTE: If your current logon is less than 6 characters, you will need to enter leading zeros to bring it up to six characters.
For example, logon ID "1234" will now need to be entered as "001234".
Please take the time to log on and update your current login and password before May 20th to avoid any account access issues.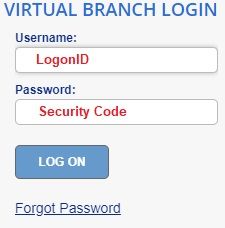 After the initial login, you may be prompted for your email address and mobile number if you do not already have these in Virtual Branch. This information will be used for security alerts and identity verification. Features like out-of-band and security alerts need a mobile phone number and an email address to enable these services as security requirements for digital access continue to become more stringent. Please make an effort to keep these up-to-date.
Account balances, recent transactions, upcoming transfers, and upcoming bill payments are visible on the accounts page. Also, accessible from the Accounts page are links to eStatements, Create Alerts, Transfer Money, Credit Card Account, and Apply for a Loan. Both Transfers and Pay Bills will remain.
Self Service items will be accessible in "Settings". Here you can update your profile information (Logon ID, Security Code, Address, Phone Numbers, Email Address, Time Zone, Security Questions, and Manage Alerts). Accounts can be sorted, nicknamed, set as a favorite, or set as visible or hidden.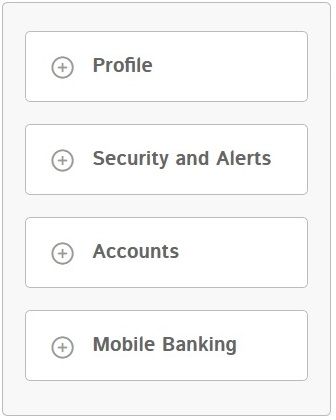 All users will be required to accept terms and conditions the first time logging in to Virtual Branch Next after the upgrade. Supported browsers include Microsoft Edge, Google Chrome, and Apple Safari.
Welcome to Virtual Branch® Next! Available to you from any device at any time in an always-on, always-connected digital world.