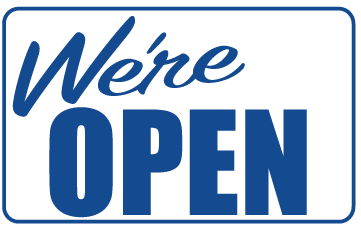 We will open our Independent Federal Credit Union lobby on Monday, June 1st. However, the lobby will open under the guidelines of our Pandemic Safety Plan, and per the Governor's orders. We want to stress that the safety of our members, and that of our staff is of utmost importance, and will remain top-of-mind throughout Indiana's Back on Track 5-Stage Plan. We are committed to the safety of all of our members and employees.
If you are 65 and over, or have been identified with any high-risk conditions that make you particularly vulnerable to the coronavirus, then we strongly encourage you to refrain from visiting the Credit Union. Your transactions can continue to be handled by phone, electronically, or the drive-up windows. Should you need special assistance, or need to meet with us in-person, please contact us to make an appointment. The first hour of each business day is reserved for those members at high-risk.

We will conduct daily health assessments by reviewing screening questions, and performing a touch-less temperature assessment of our employees before the start of each workday. In addition, according to the Center for Disease Control [CDC] guidelines, we will conduct regular workplace cleaning and disinfection throughout the workday, and at the close of each business day. This includes all high-touch surfaces and contact areas.
We will allow a limited number of members to be in the lobby at any given time to help encourage social distancing. Masks will be required for members, and employees at all times.
We would like to stress that drive-up services will remain fully functional, and our mobile services allows you access to all services. Both continued use of drive-up services, and mobile services are encouraged, so that we may continue to proceed with caution.
We would also like to encourage members to make appointments to meet face-to-face with Members Services, and our Loan specialists. Appointments will assure that we can have the safest environment prepared for your visit. Without an appointment, you will be required to wait in your car until we are safely able to help you.
For the safety of everyone, if you have been in close contact with a confirmed case of COVID-19, are experiencing any symptoms such as cough, shortness of breath, sore throat, muscle ache or weakness, or have had a fever in the last 48-hours, then we respectfully ask you not to enter the building.
Please always keep in mind the basic control measures to help contain the spread of diseases, and viruses.

PERSONAL PROTECTIVE EQUIPMENT
We will require members, and employees to wear a mask at all times while in the Credit Union.
To verify identity, members will be asked to pull down their masks before conducting any financial transactions, or business.

SOCIAL DISTANCING

To help everyone in the Credit Union maintain proper social distance, we have placed dividers in front of all teller areas in order to maintain a six-foot social distance between employees and members. Additionally, we have installed plexiglass shields, and implemented new processes to minimize any unnecessary contact.

PERSONAL HYGIENE - WASH YOUR HANDS

We encourage our employees, and members to wash their hands for at least 20-seconds frequently throughout the day, and after contact with any public surface. We will have hand sanitizer stations available.
All of us at Independent Federal Credit Union want to encourage alternative service delivery methods. These include drive-up, night deposit boxes, ATMs, online banking, and mobile banking.
To stay up-to-date, and in-touch with us.
Facebook: facebook.com/independentfcu
Instagram: @independentcreditunion
Please contact us with any questions, concerns, or to schedule an appointment.